Bad Rabbits = Great Monday Night
"You're the center of attention just trying to get involved. Can't help but mention how fly you are. You damn sure ain't a strobe light, you're the Real McCoy. I just wanna make some mistakes."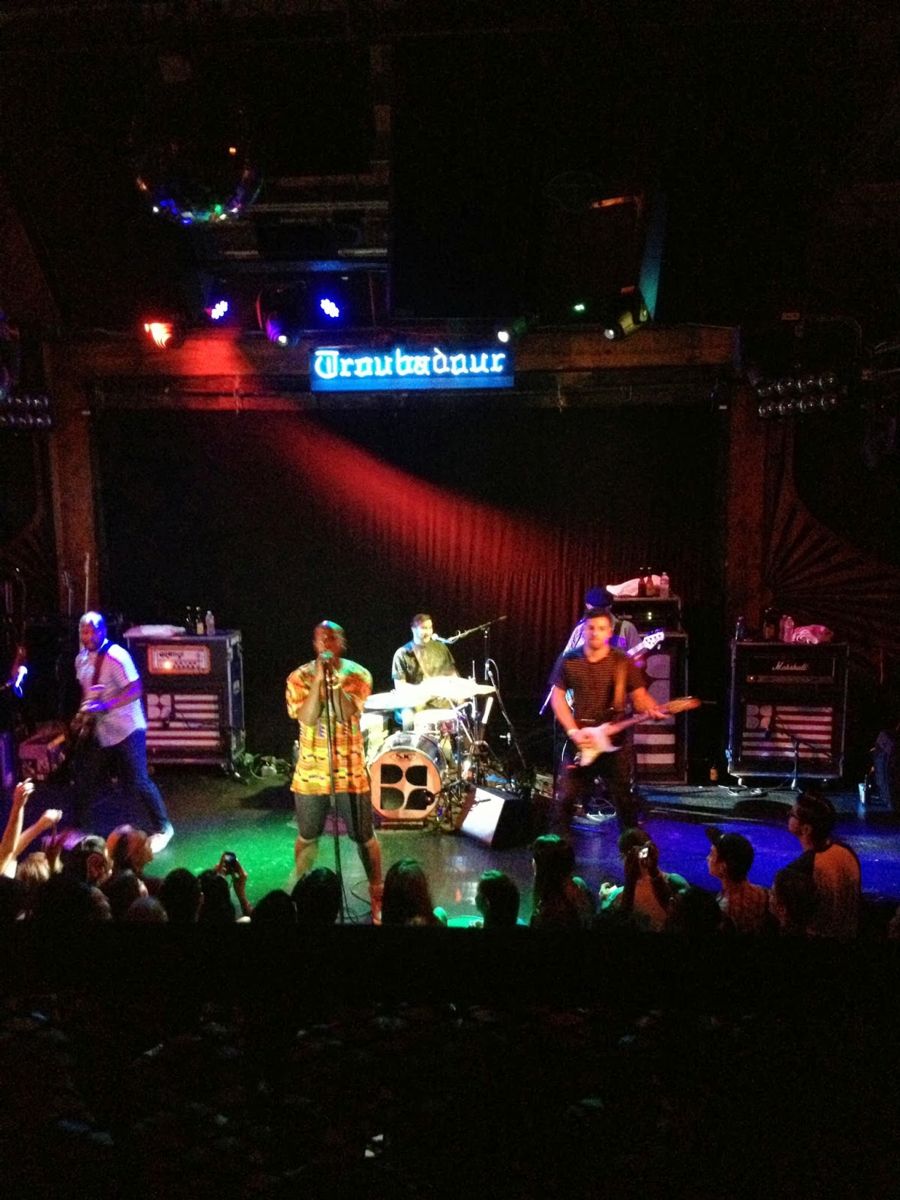 Shakin' what your mama gave you on a Monday night is no mistake, especially if it involves Hammer time. This night not only included but featured a Hammer time shimmy, which I suspect is a regular part of the live show. I'm not new to Hammer time, but I'm new to a singer doing the move across the stage, through to crowd, back to the bar (where he sipped a beer) and then back through the crowd + back onstage. Proper!!
Many of us got our first taste of Bad Rabbits when okayplayer posted their Deftones cover, Sex Tape. Some of you cool kids probably grew up eating chowda and going to Red Sox games together, I bet "Booties" is about kicking it with you. Well, for the rest of us dwellers of "Neverland," we are just grateful Boston sent these booty-shaking beats. It's no wonder Bad Rabbits sold out the Troubadour on a Monday night. I don't know if anyone could possibly feel out of place at a Bad Rabbits show, because the crowd is a spectrum of show-goers. That old guy was there, leaning on that hipster girl who was pushed against those preppy polo shirt guys, next to the punks who were checking out the racks (the gear, you perv). Vocalist Fredua Boakye made a comment about how some of the girls were really serious and they'd cut you if you shove + pit. Everyone laughed, especially the hard girls (and he wasn't messing around, there were some beautifully tough girls in this crowd!). They didn't play Sextape, but otherwise they played every song I hoped to hear. I couldn't think of one of their own songs they didn't play. It was a long, solid set. If you catch Bad Rabbits live, expect the music to sound just as explosive as it does recorded, and don't be alarmed if you spontaneously join the Hammer dance revolution.

Check out their video Dance With You and watch for future tour dates thru 2014!
Courtney is a book-loving, concert-going nerdgirl. She enjoys long walks on the beach, rich chocolatey Ovaltine, and watching puppet shows.